The Companies tab, highlighted in blue when selected, provides a central location for viewing and managing the companies and/or agencies you do business with. In addition, owners are also defined as a Company. Think of this tab as where you enter in all your 'contacts'.
Within the Pops application, a company could be…
An operator
Anyone that has granted or assigned your mineral rights to you, ie your Grantor
Anyone that you have received a lease from
Anyone you've signed a Statement of Interest (SOI) aka Division Order with
Anyone who is currently paying you, aka the Payor
Yourself, as the owner aka the Grantee
Add a New Company Record
To add a new company, select the Companies Tab,  then click the plus + symbol, located in the bottom left corner.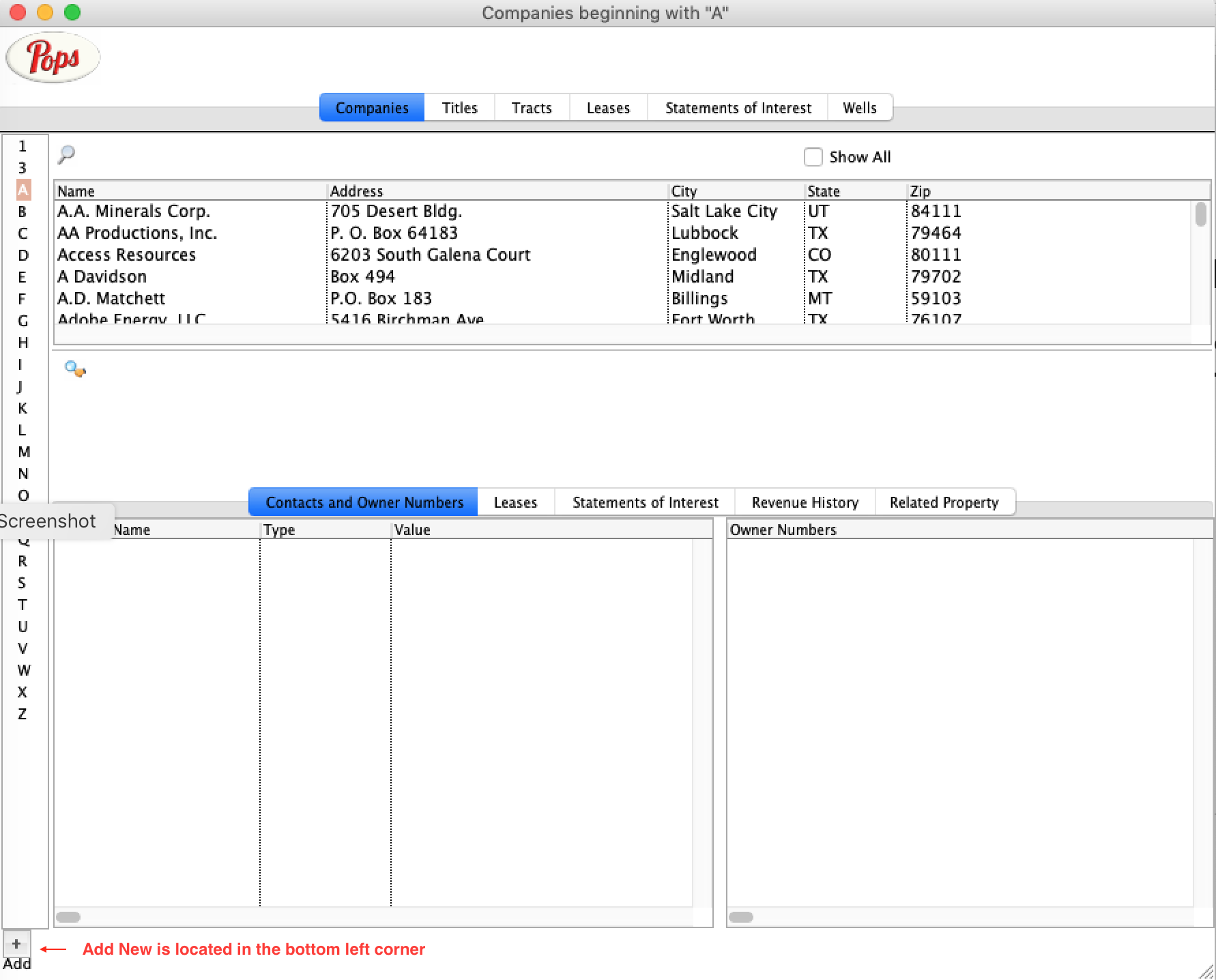 The Add Company Detail window will automatically open in edit mode.

There are several different number fields within the Company Detail window. These are for your organizational needs, but not required fields.
Company Number: The company number is not generated within the system, but rather is defined by the you, the user. The system will accommodate any user-entered number. This allows Pops to better interface with your existing workflow.
Tax ID Number:  This is normally found on a legal document and is not generated by the end user.
Owner Number: This number is most often associated with the paying company and can be found on documentation they provide. For example, a Division Order will likely have an Owner Number listed.
Working with Company Detail
The Company Detail window provides an in depth view of the companies and agencies you do business with.
You can access the Company by double-clicking the desired company name from within the data grid. The Company Detail window is a centralized location for viewing and editing your company contacts, address and memos. It is also a convenient place to view all owner numbers that have been issued to you by a specific company.
View a Company
To view a specific company's data in greater detail, double-click the company row record within the data grid section located at the top of the Companies Tab window. A list of owner numbers can only be viewed for a specific company record from within the Company Detail window. POPS? automatically enters these owner numbers based on information contained in the Statement of Interest Window.
Deleting a Company
To delete a company and its detail record from within the Company Detail window, click the Delete button. A Delete Company Detail dialog window will appear asking you to confirm this request. Deleting a company detail record will result in the deletion of ALL data related to this company anywhere within the POPS? system. If you are wishing to delete a company only because you are no longer doing business with them it is recommended that you change their Status to "Inactive" or "Defunct" thereby retaining all data history associated with this company
Located to the left of the Companies Tab is the Navigator panel. The navigator panel, a vertical list of letters, provides speedy access to a specific company record. For example, to see all of the companies in the system beginning with the letter "C" you would single click the letter C from the list on the far left.
Contacts & Owner Numbers
IMPORTANT NOTE:
The Contacts area conveniently displays all contact personnel currently in the system for the selected company, as well as their individual contact information e.g. phone, e-mail, fax, etc. The Owner Numbers area displays all your owner numbers referenced in all documents issued by the selected company.
Leases
Figure 2-4 shows the Companies Tab with the Leases tab window selected. All leases that have ever been issued by the selected company are conveniently displayed here. Included here are lease specifics such as: 1) Lessee Name; 2) Date Received (date the lease offer was received); 3) Term; 4) Royalty Interest (as fractional interest); 4) Bonus (if applicable); 5) Product and 6) Description
To access the detail window for a specific lease simply double click that row record. POPS will take you to the Lease Detail window for that specific lease record where you can view further details or edit the lease record. See Chapter 3 "Working with Lease Detail" for more information.
Statements of Interest
Figure 2-5 shows the Companies Tab with the Statements of Interest tab window selected.[CP4]
The Statements of interest window conveniently displays all document records issued by the selected company. These documents may include, division orders, spacing agreements, unitization agreements and pooling agreements – all handled with ease by the POPS system. Included here are royalty payment specifics such as:
Document Number;
Date Division Order Received;
Well Name (where applicable);
Date First Paid (date of the first proceed/royalty payment);
Date Last Paid (date of the last/latest proceed/royalty payment to date);
Status (current status of the operation namely, "Active" versus "Held by Production").
See  – "Working with Division Order Detail" for more information.
TIP: If you click a given column header POPS? will automatically list all records using that field as the sort criteria. e.g. To see all document records sorted by date first received to date last received, single click the column header entitled "Date Received". Clicking header a second time causes the display to sort in reverse or from date last received to date first received.