On the Mac OS X system there are some files that cannot be moved. An example is the "About Stacks" file in the Documents folder. This file is add by the Mac OS X installer as a standard file but it is special. This file, and others like it, has unique "file permission settings" that limit what can be done with it. The Pops application is not allowed to move this file into its document repository.
You may run into other files that cannot be moved by the Pops application. The application will raise an error message "Error code: 700010 – could not complete file move operation; asset not written to repository." You can check and change file permissions in the Get Info dialog. In the image here you can see that the "About Stacks" file has been given "Read & Write" privileges to the user "markphillips". Everyone else has "No Access", which is why the Pops application cannot move the file into the document repository.
Other files, such you save from email or copy from other drives will not have the "No Access" setting as a rule. There are three commonly available for most files. "Read & Write" and "Read Only" allow Pops to store a file in the document repository.
If you have trouble moving a file into the Pops document repository, open the Get Info dialog and examine the permission settings.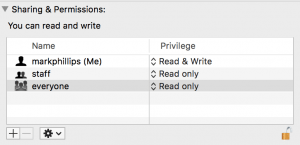 Save
Save
Save
Save