Logging in for the first time
The first time you start up Pops you may see a message saying that you are running a demo version. Rest assured you have complete functionality and will get your own license after the 90 day period is over. If you don't see the demo message, Pops will ask you to log in.
SET UP YOUR WORKING ACCOUNT
Once you have downloaded the Pops Royalty Manager installer and installed Pops Royalty Manager onto your desktop, you will be prompted with a logon screen asking for an Account Name and Password.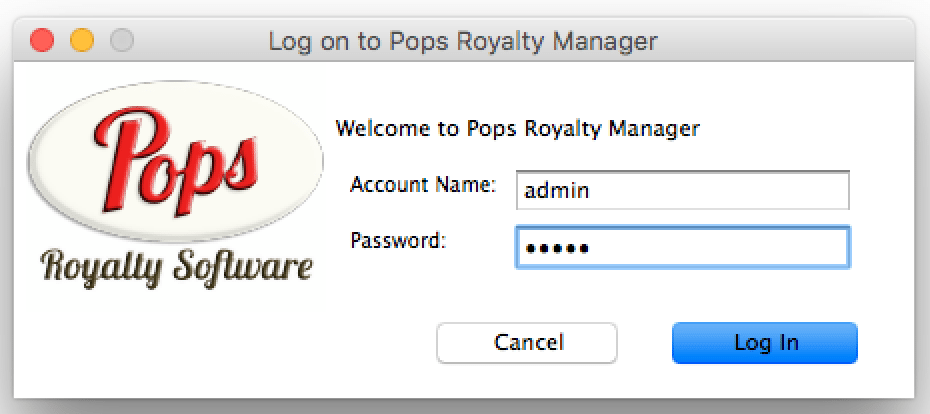 The default login information for new users is admin/admin (lowercase). Type 'admin' for the Account Name and then 'admin' again for the Password and click the Log In button. There may be a short time lag to setup the Pops Royalty Manager application environment and this is normal.
Once you are logged in you can change your account information by selecting 'preferences' from the top menu and then 'users'. Choose a name and password you can remember and write it down in case you forget.
You may also add accounts for any others who assist you in the business and will be using the Pops product. For example, this could be your partner, secretary or bookkeeper. Doing so allows the program to track who made changes to what records. It also allows users of the Enterprise Edition to logon concurrently.